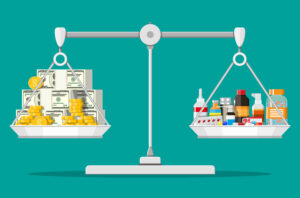 A Part D Pay-It-Forward Proposal
Introduction
Health insurance is supposed to offer protection from high out-of-pocket costs—but in the Medicare Part D drug benefit, it often doesn't work that way. A recent analysis by the Kaiser Family Foundation has found that the number of non-poor beneficiaries reaching the catastrophic phase of Medicare's Part D benefit has increased sharply since 2010. In 2019, almost 1.5 million beneficiaries had out-of-pocket expenses for their drugs exceeding the catastrophic threshold of $5,100—and the arrow is going in the wrong direction. Our undeniable and untenable national reality is that millions of American seniors cannot afford their  medications due to high cost-sharing requirements—and millions more will not be able to afford their medicines in the future unless Congress directly addresses this crisis. To address this situation, it's time to "cap-and-smooth."
---
Health insurance is supposed to offer protection from high out-of-pocket costs—but in the Medicare Part D drug benefit, it often doesn't work that way. A recent analysis by the Kaiser Family Foundation has found that the number of non-poor beneficiaries reaching the catastrophic phase of Medicare's Part D benefit has increased sharply since 2010. In 2019, almost 1.5 million beneficiaries had out-of-pocket expenses for their drugs exceeding the catastrophic threshold of $5,100—and that trend seems to be continuing.[1]  In addition, a 2021 analysis from the National Bureau of Economic Research found that a 33.6% increase in out-of-pocket costs causes a 22.6% drop in total drug consumption and a 32.7% increase in monthly mortality. The study also found that this impact occurs regardless of income level.[2]
Over the last few months and years, a wide range of proposals have been put forward to revise and update Medicare's drug benefit. Those proposals would generally cap the out-of-pocket (OOP) costs that enrollees pay each year under Part D, and some proposals would also reduce the rate of coinsurance that applies above the program's deductible. In the standard benefit design, that rate is currently set at 25%.
Approximate Distribution of Part D Enrollees by Income in 2024

In Low-Income Subsidy (LIS)
15,000,000
Not in LIS but below 200%
12,000,000
200% to 300%
11,000,000
300% to 400%
6,000,000
400% to 500%
5,000,000
 
 
Above 500%   
5,000,000
Source: Ellis Health Policy
In 2021, nearly 13 million Part D enrollees, or just over 1 in 4, receive premium and cost-sharing assistance through the Part D Low Income Subsidy (LIS) program.[3] These additional financial subsidies, also called "Extra Help," pay Part D premiums for eligible beneficiaries, as long as they enroll in stand-alone PDPs designated as premium-free "benchmark" plans and reduce cost sharing.[4]
Even so, concerns remain about whether other non-LIS Medicare beneficiaries (who often have limited income) can afford the medications that are prescribed for them. To qualify for the LIS program, Medicare enrollees must have low assets and fairly low annual income—in rough terms, less than $18,000 for a single individual or $24,000 for a couple. For Medicare enrollees with higher income or more assets, but often still living on fixed income, affording their medications can often be difficult. At the current catastrophic level, a single enrollee with income of $20,000 could thus have to pay a quarter of their income or more for their prescriptions—or might choose instead to skip their medications.
Studies have consistently shown that 20% to 30% of medication prescriptions are never filled, that about 50% of medications for chronic disease are not taken as prescribed, and that lack of adherence costs the health care system at least $100 billion each year.[5] In a recent poll, conducted by Morning Consult on behalf of the PAN Foundation, 75% of seniors on Medicare reported that they cannot afford to pay more than $200 for their prescriptions each month. About 35% of seniors with high out-of-pocket prescription drug costs—$200 or more each month—had difficulty paying for their medications.[6] Higher mortality rates are also a serious concern.[7]
Our undeniable and untenable national reality is that millions of American seniors cannot afford their medications due to high cost-sharing requirements—and millions more will not be able to afford their medicines in the future unless Congress directly addresses this crisis.
To address this situation, it's time to "cap-and-smooth" Part D out-of-pocket costs. Specifically:
Congress should create an out-of-pocket maximum on Part D out-of-pocket expenses for Medicare beneficiaries. Medicare is the only major insurer in the U.S. that lacks an OOP maximum.
 
An annual OOP cap in Medicare Part D should be paired with a "smoothing mechanism" to address monthly or per script costs. Smoothing could take multiple forms, such as a financing option or a per script copay cap and would allow beneficiaries the option to evenly spread costs over a plan year, thereby avoiding large lump sum OOP expenses. Many beneficiaries cannot afford to make lump sum out-of-pocket payments at the pharmacy counter, leading to abandoned prescriptions and lower treatment adherence.
 
Consider the CMS Part D Senior Savings Model that allows Part D patients with diabetes to access insulin for $35 per monthly prescription and determine whether expanding this type of program to patients with other conditions would improve outcomes.
 
Congress should ensure a financing program includes strong patient protections. There are many reasons a beneficiary might miss a payment. Plans should be required to notify patients when they are behind on their payments and inform them of the ability to apply for a hardship exception.
 
Congress should ensure that smoothing is the default position. Such an approach will ease implementation and lower administrative barriers to participation.
It's Possible, Plausible, and Timely
According to Otto von Bismarck, "Politics is the art of the possible." This is more than an oft-repeated Beltway policy truism. In December 1884, Bismarck, the "Iron Chancellor" of Germany, introduced the first national public/private insurance system to establish universal healthcare.[8] Pragmatism is our ally in advancing a better, more economically sound, and patient-friendly Part D.
The Build Back Better Act
Sections 139201 and 139202 of the Build Back Better Act (BBBA)[9] amend the design of the Part D benefit by adding a hard cap on out-of-pocket spending set at $2,000 in 2024, increasing each year based on the rate of increase in per capita Part D costs. It also lowers beneficiaries' share of total drug costs below the spending cap from 25% to 23%. It also lowers Medicare's share of total costs above the spending cap ("reinsurance") from 80% to 20% for brand-name drugs and to 40% for generic drugs; increases plans' share of costs from 15% to 60% for both brands and generics; and adds a 20% manufacturer price discount on brand-name drugs.
Manufacturers would also be required to provide a 10% discount on brand-name drugs in the initial coverage phase (below the annual out-of-pocket spending threshold), instead of a 70% price discount.
The legislation also calls for increases to Medicare's premium subsidy for the cost of standard drug coverage to 76.5% (from 74.5% under current law) and reduces the beneficiary's share of the cost to 23.5% (from 25.5%). The legislation also allows beneficiaries the option of smoothing out their out-of-pocket costs over the year rather than face high out-of-pocket costs in any given month.
Whether or not the BBBA passes at all (or as written) is not possible to predict. Regardless, making Part D better for patients, not just the government, is possible, plausible, and practical for patients. Our proposal suggests capping copayments in Part D at $50 per prescription for enrollees with incomes up to 300% of the Federal Poverty Level (FPL). For patients above 300% of the FPL, a smoothing option to finance their costs throughout the year would be available. Specifically, we propose to layer the $50 cap on top of the existing Part D design specifications contained in the Prescription Drug Pricing Reduction Act (PDPRA) so that all those changes would first take effect in 2024.[10] This approach could also be added to other Part D benefit redesign ideas.
Healthcare Reform is the Art of the Possible
We asked Dr. Philip Ellis, a former long-time official in the health group at the Congressional Budget Office, to provide an estimate of our proposal's effects on drug spending, federal costs, and patient costs.[11] In summary, the analysis found the following:
Over the 10-year budget window, adding the $50 copayment cap would reduce OOP costs for enrollees by $56 billionrelative to the effects of PDPRA without the cap).
As a result, enrollee barriers to compliance with care plans (including the use of medications) would decrease, saving the federal government about $17 billion on costs for otherwise avoidable hospitalizations, doctor's visits, and other services under Parts A and B of the program.
The $50 copayment cap would, however, increase enrollee premium payments and would increase federal spending on Medicare by about $23 billion (relative to current law and net of the reduction in spending on Parts A and B).
On balance, adding the $50 cap added to PDPRA would save enrollees $49 billion in total payments for premiums and OOP costs under Part D through 2031.
The Roadmap
As mentioned above, the CMPI proposal would be layered on top of the changes to Medicare's drug benefit suggested by the PDPRA. That legislation would make the following key changes:
Create an out-of-pocket spending cap of $3,100;
Allow enrollees to smooth their OOP costs over the calendar year (in the CMPI version, for patients over 300% of the FPL); 
Reduce the coinsurance rate that applies above the deductible and below the OOP cap from 25% to 20%; and
Reduce beneficiary premiums from 25.5% to 24.5% of program costs.[12]  
Under our proposal, the $50 cap on copayments would apply after patients had met their deductible. It would be available to enrollees with income up to 300% of the FPL (verified using tax records), reaching nearly 23 million patients (see Table 1), and patients over 300% of the FPL would still have a smoothing option available to them. The costs of the new copay cap would be covered by a new subsidy that would be fully borne by the federal government, similar to the current cost-sharing subsidies for LIS enrollees.
However, these new subsidies would not be treated as OOP costs for purposes of determining whether enrollees had reached the OOP cap; instead, only OOP costs actually paid by enrollees would count. Finally, the dollar amounts of the OOP cap and the copay cap would be indexed in future years to per capita drug costs, as with other components of the Part D standard benefit.
Cost Estimates
To estimate the costs of the proposal, Dr. Ellis first modeled the costs of PDPRA itself, and then estimated the costs of PDPRA combined with the $50 cap on copayments—in both cases, relative to current law. The incremental effects of adding that cap can thus be calculated as the difference between those two cost estimates.
To generate those estimates, he applied a micro-simulation model using claims data for Part D enrollees combined with projections of future enrollment and spending. Like the Congressional Budget Office's analyses, the Ellis model estimates the change in federal spending and other metrics that would likely occur relative to what is projected to occur under current laws and regulations.
The summary results are shown in Table 1 below. Overall, PDPRA is estimated to save the federal government $46.3 billion over the 10-year budget window, relative to current law. PDPRA with the addition of the $50 cap on copayments would instead increase federal costs by $23.1 billion, compared with current-law projections. Other effects of adding the copay cap are as described above.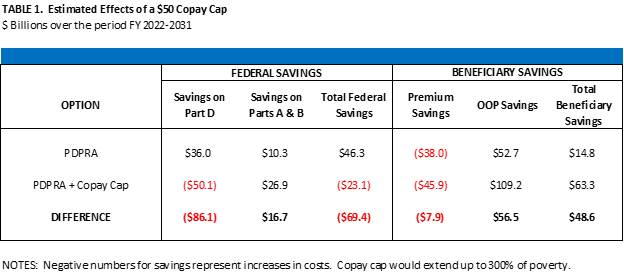 From Policy to Patients: A Better Part D in Human Terms
Meet Gary
Gary is a 71-year-old California resident with a Part D plan. In 2020, he filled 23 prescriptions to treat his Rheumatoid Arthritis (RA), Chronic Obstructive Pulmonary Disease (COPD), along with several generic antibiotics. Gary's total out-of-pocket (OOP) spend on medication was $5,906. His OOP spending was significantly front-loaded, spending nearly $3,000 in the first two months of the year. He has a monthly income of $3,100.
Here's how the CMPI Cap-and-Smooth model would help Golden State Gary:     
| | | | |
| --- | --- | --- | --- |
| Month | Current | OOP Cap | OOP Cap + $50 Copay |
| January | $1,841 | $1,560 | $535 |
| February | $1,035 | $1,212 | $100 |
| March | $303 | $328 | $100 |
| April-December | $303 | $0 | $50-$100 |
|   |   |   |   |
| TOTAL: | $5,906 | $3,100 | $1,585 |
Meet Lourdes
Lourdes is an 85-year-old living in Texas with Part D coverage. In 2020, her doctor prescribed a branded oral cancer therapy for a recent cancer diagnosis of Chronic Lymphocytic Leukemia (CLL). Lourdes' out-of-pocket spending for this drug would have been $3,043 for the first month, then $788 per month thereafter, resulting in an annual OOP cost of $11,711. However, this amount was unaffordable to her since she has a monthly income of only $2,500. Unable to afford Part D cost-sharing, Lourdes abandoned her medication.
Here's how the CMPI Cap-and Smooth plan would help Lone Star Lourdes: 
| | | | |
| --- | --- | --- | --- |
| Month | Current | OOP Cap | OOP Cap + $50 Copay |
| January | $3,043 | $3,100 | $485 |
| February | $788 | $0 | $50 |
| March | $788 | $0 | $50 |
| April-December | $788 | $0 | $50 |
|   |   |   |   |
| TOTAL: | $11,711 | $3,100 | $1,035 |
Meet Howard
Howard is a 61-year-old living in Indiana who qualified for Part D based on his disability status. In 2020, he took five generic medications monthly to manage congestive heart failure. In March, his condition worsened, and his doctor recommended that he start a new, branded therapy. Howard paid nothing OOP for his generic medications, but the new brand drug will cost him $478 in March, $43 per month for the next five months, then increase to $154 per month for the rest of the year, an annual OOP cost of $1,309. This new expense is a strain on his limited monthly income of about $1,800.
Here's how the CMPI Cap-and-Smooth model helps Hoosier Howard:
| | | | |
| --- | --- | --- | --- |
| Month | Current | OOP Cap | OOP Cap + $50 Copay |
| January | $0 | $0 | $0 |
| February | $0 | $0 | $0 |
| March | $478 | $478 | $485 |
| April-December | $43-$154 | $43-$154 | $50 |
|   |   |   |   |
| TOTAL: | $1,309 | $1,309 | $935 |
A Pay-it-Forward Proposition
While much of the current debate is focused on lowering the federal government's prescription drug bill so that those savings can be repurposed for other priorities, ours is a plan designed to make medicines more affordable to patients at the pharmacy. It is not a "pay-for." It is instead a pay-it-forward design, an expense—partially off-set by other mechanisms within PDPRA—that will, in our judgment, reap larger benefits in both public health outcomes and reduced spending over time as Part D patients comply with their care plans more regularly. "Paying it forward" is in keeping with the foundational principle of the Part D benefit.
[1] https://www.kff.org/medicare/issue-brief/millions-of-medicare-part-d-enrollees-have-had-out-of-pocket-drug-spending-above-the-catastrophic-threshold-over-time/
[2] https://www.nber.org/system/files/working_papers/w28439/w28439.pdf
[3] https://www.cms.gov/Medicare/Eligibility-and-Enrollment/LowIncSubMedicarePresCov
[4] https://www.kff.org/medicare/issue-brief/key-facts-about-medicare-part-d-enrollment-premiums-and-cost-sharing-in-2021/
[5] Viswanathan M, Golin CE, Jones CD, et al. Interventions to improve adherence to self-administered medications for chronic diseases in the United States: a systematic review. Ann Intern Med. 2012;157(11):785-795. https://www.ncbi.nlm.nih.gov/pubmed/22964778. Accessed April 3, 2020.
[6] https://www.panfoundation.org/high-out-of-pocket-costs-causing-concern-for-seniors/
[7] A Multiyear Investigation, National Health Interview Survey, 2000–2014. https://www.cdc.gov/pcd/issues/2020/20_0244.htm
[8] https://www.ncbi.nlm.nih.gov/pmc/articles/PMC3596027/
[9] https://rules.house.gov/sites/democrats.rules.house.gov/files/BILLS-117HR5376RH-RCP117-18.pdf
[10] https://www.finance.senate.gov/imo/media/doc/PDPRA%202020%20Section%20by%20Section.pdf
[11] More information about Dr. Ellis is available here:  https://www.ellishealthpolicy.com
[12]  Three other provisions affect the cost estimate for PDPRA but are not relevant to this discussion. First, recent proposals generally would repeal the so-called "rebate rule" requiring drug rebates to be passed through to point-of-sale prices; repeal of that regulation would generate substantial savings for the federal government. Second, PDPRA would substantially reduce the rate of reinsurance provided to Part D plans for catastrophic drug costs; in turn, those plans would have stronger incentives to manage those costs. Third, PDPRA would conform the basic drug benefit for LIS enrollees with this revised benefit design for non-LIS enrollees.