FDCA Statutory Supplement, 2021
Now Available for Preorder
Softbound | 675 pages
Edited by Jennifer L. Bragg, William McConagha, Deborah M. Shelton, Emily Strunk

The FDCA Statutory Supplement, 2021 is an indispensable tool for FDA law practitioners. This publication provides cross-referencing of the numerous legislative amendments with the original statute, facilitating quick research and citation, and highlights recent changes through simple formatting. This edition is updated to incorporate the CARES Act and other statutory amendments since the 2018 edition. The appendix contains relevant portions of related statutes. This publication is available in both print and E-book versions.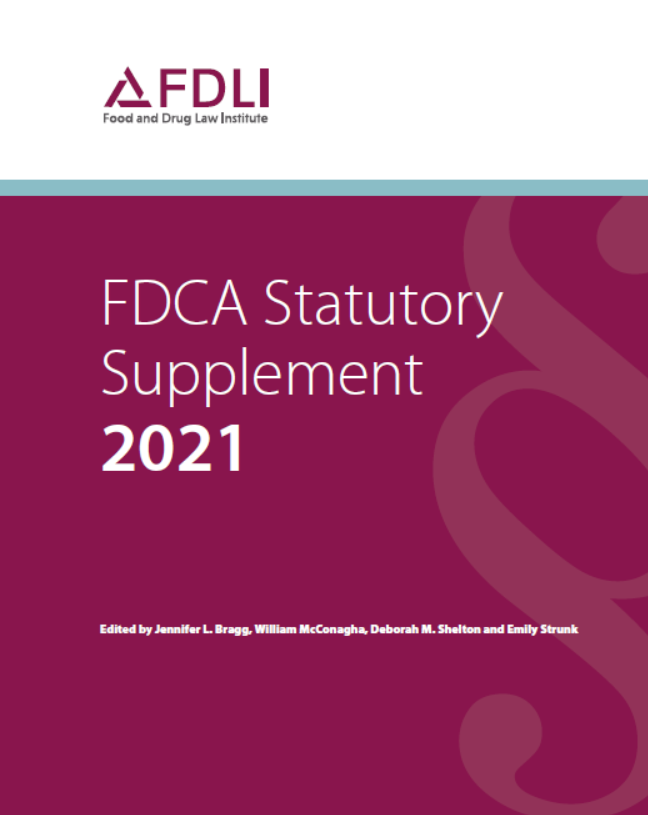 Print
+$50 for nonmembers
+$50 to add E-Book at Checkout
E-Book
+$50 for nonmembers
+$50 to add Print at Checkout
Internet Explorer and Microsoft Edge are not supported by the checkout process.
Please use Chrome, Firefox, or Safari.  If you are unable to use these browsers, please contact us at 202-371-1420 or [email protected] and we will assist you.
Save 10% on a purchase of 5 or more copies, save 15% on a purchase of 20 or more copies and save 25% on a purchase of 50 or more copies.
Review copies for professors who are adopting a book for a course are available for a reduced fee. Please contact [email protected] for more information.