How FDA Really Works: Insights from the Experts
Edited by Wayne L. Pines and Jessica L. Zeller, with 24 chapters from contributing authors
Estimated publication date: November 2022
Softbound | 288 Pages
Print ISBN | 978-1-935065-95-1
E-Book ISBN | 978-1-935065-96-8
For those seeking to navigate a product application, address a regulatory issue, or establish or change a policy, success in navigating the Food and Drug Administration maze can be formidable. In a first-of-its-kind book, authors who are top experts in their fields share their essential insights from their experiences interacting with FDA—or as FDA employees themselves—to help illuminate the complexities of the regulatory process and provide observations for effectively communicating with the agency.
Learn how to get the most out of your relationship with FDA, whether it's determining the best way to contact the agency, a question about a specific product area, how to appeal an adverse decision, or tips on the unique culture of FDA. This book provides personal experiences, best practices, and "tricks of the trade" from people who interact with the agency every working day.
Register for the FDLI Book Launch—How FDA Really Works: Insights from the Experts webinar here.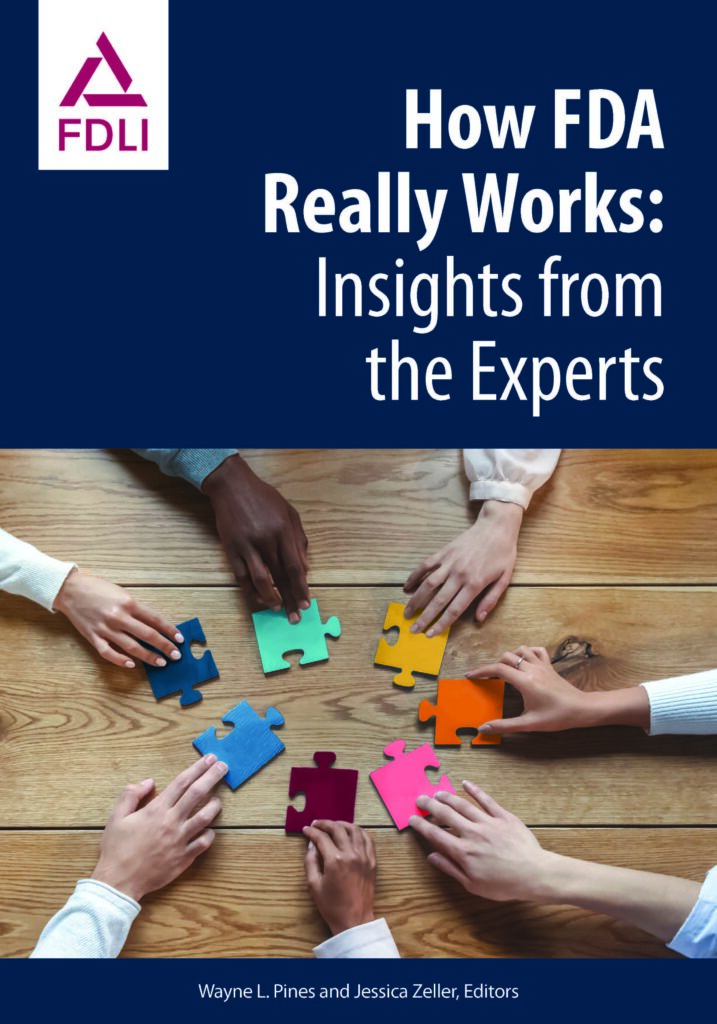 Internet Explorer and Microsoft Edge are not supported by the checkout process.
Please use Chrome, Firefox, or Safari.  If you are unable to use these browsers, please contact us at 202-371-1420 or [email protected] and we will assist you.
Save 10% on a purchase of 5 or more copies, save 15% on a purchase of 20 or more copies and save 25% on a purchase of 50 or more copies.
Review copies for professors who are adopting a book for a course are available for a reduced fee. Please contact [email protected] for more information.
Yes, students are eligible for student pricing for books. Students must be FDLI members or provide proof of their course to receive the student pricing.
Physical copies of books purchased through our website are printed and shipped directly to customers. Printing and shipping times may fluctuate, but usually take 3-10 business days to print in addition to standard wait times for UPS Ground shipping (2-4 days). If you would like to expedite the shipping of your book, we can do so for an additional fee. Please contact us at [email protected] or 202-371-1420 prior to your order. 
This electronic book (e-book) is available to you through the VitalSource Bookshelf application, accessible on most mobile devices and computers (view supported devices). After receiving your order, an access code is sent to your email along with directions to create an account and redeem it. E-books are intended for individual use. If you would like a copy of the book that you plan to share with others, FDLI recommends purchasing a print book.
E-book orders are fulfilled as quickly as possible during business hours and are not available for immediate download upon checkout.
The e-book platform provides a number of benefits, including in-book annotation, an option for offline reading, and cross-platform syncing. Additionally, the purchased e-book may be accessed through two mobile devices and two desktop computers at one time. If you are interested in learning more about the features, you can find a full list on VitalSource's website.
FDLI will gladly accommodate requests for other formats to ensure the accessibility of our texts. We will work with each individual on a case-by-case basis to determine how we can best assist and which format of the text will be most helpful. Please submit requests for accessible formats to [email protected].