FDA Tackles Cell-Cultured Foods
By Brian P. Sylvester, Special Counsel, Wiley Rein LLP
On July 12, 2018, the U.S. Food and Drug Administration (FDA or agency) jumpstarted the conversation on the regulation of cell-cultured foods by way of a public meeting entitled "Foods Produced Using Animal Cell Culture Technology." This marks the very first time the U.S. government has engaged stakeholders to address the science and safety of cellular agriculture.
What is Cellular Agriculture?
Cellular agriculture refers to the production of agricultural products from cell cultures. Through cellular agriculture, meat, poultry, and fish can be produced ex vivo, or grown outside the animal. The finished product replicates the characteristics of muscle harvested from food-producing animals.  
Context
Cellular agriculture has drawn investments from Tyson Foods, Cargill, and Merck's M Ventures—among others—helping cell-based meat start-ups to reduce cost and scale up production.1 Cell-based meat could hit American supermarket shelves as early as 2021. Before that happens, an appropriately tailored regulatory approach must be developed.  
After months of speculation regarding how the U.S. government might consider regulating cell-based meat, FDA announced its July 12 public meeting. FDA designed the meeting to primarily focus on safety considerations as the agency seeks to think through how best to fit cellular agriculture within its existing regulatory framework (83 FR 28238). During the "public comment" portion of the day, however, conventional meat interests inserted the question of jurisdiction, making clear that they envision the U.S. Department of Agriculture (USDA) as the appropriate agency to exercise regulatory oversight.
The meeting followed the first congressional briefing on cellular agriculture on Capitol Hill, hosted by Research & Development (R&D) Caucus co-chairs, Representative Bill Foster (D-IL) and Representative Barbara Comstock (R-VA) on June 27, 2018. The meeting also came on the heels of months of legislative and regulatory activity surrounding the future regulation of cellular agriculture food products, including: (1) a petition to the USDA by the U.S. Cattlemen's Association to exclude cultured meat from being labeled as "meat" or "beef" and (2) legislative efforts to place cell-based meats and poultry within the regulatory purview of the USDA.
Key topics addressed at FDA's July 12 meeting were: jurisdiction, regulatory oversight, safety considerations, and labeling.
Jurisdiction
Over the past several weeks, both USDA and FDA have been on record stating that they think cultured meat falls within their regulatory purview.2  The White House Domestic Policy Council is set to hash out the Administration's approach in the coming weeks. In a late-breaking development the day before the July 12 meeting, Republican and Democrat leaders from the House Agriculture Committee and the Appropriations Committee's agriculture panel wrote to the White House Office of Management and Budget pushing for a more active USDA role in oversight.
At the outset of FDA's July 12 public meeting, FDA Commissioner Dr. Scott Gottlieb first thanked his colleagues at USDA for their continued cooperation regarding cellular agriculture. Although no USDA officials participated as panelists during the meeting, USDA officials were in attendance. On July 17, 2018, Commissioner Gottlieb indicated that FDA is working closely with USDA on jurisdiction over cell-cultured foods.3 It remains to be seen what role, if any, USDA will play going forward. What is certain is that FDA views itself as having a substantial role to play in the regulation of cellular agriculture.
To support its position, at the July 12 meeting, Commissioner Gottlieb emphasized FDA's role in the introduction of many novel foods and highlighted its expertise in cell culture technology and the medical applications that have preceded its use in food production. He noted that FDA's "past experience with novel technologies and [the agency's] extensive background in cell culture technology in the medical product space will help inform [FDA's] approach to evaluate the safety of these cell-based food products." Importantly, meat industry trade associations, like the North American Meat Institute, made clear that while FDA certainly has a role to play in establishing the safety of food ingredients, primary jurisdiction lies with USDA's Food Safety and Inspection Service.
Safety Considerations
 The FDA meeting primarily served as an information gathering effort focused on understanding how cell-based foods are produced and related safety considerations. FDA sought input, data, and information on the following questions:
What considerations specific to animal cell culture technology would be appropriate to include in evaluation of food produced by this method of manufacture?
What kinds of variations in manufacturing methods would be relevant to safety for foods produced by animal cell culture technology?
What kinds of substances would be used in the manufacture of foods produced using animal cell culture technology and what considerations would be appropriate in evaluating the safety of these uses?
Are the potential hazards associated with production of foods using animal cell culture technology different from those associated with traditional food production/processing? Is there a need for unique control measures to address potential hazards associated with production of foods using animal cell culture technology?
To address these questions, FDA assembled a stakeholders' perspectives panel comprised of:
Isha Datar, Executive Director, New Harvest
Dr. Eric Schulze, Vice President of Product and Regulation, Memphis Meats
Peter Licari, Chief Technology Officer, JUST
Dr. Rhonda Miller, Past President, American Meat Science Association and Professor/Research Fellow, Department of Animal Science, Texas A&M University
Michael Selden, CEO and Founder, Finless Foods and
Gregory Jaffe, Director, Project on Biotechnology, Center for Science in the Public Interest
How are cell-based foods made?
In the case of meat, cultured meat producers explained that cells are obtained from USDA-inspected animals, healthy at the time of biopsy. Cells are then separated and transferred in a sterile environment and subsequently placed in a bioreactor referred to as a cultivator. Once placed in the cultivator, the cell cultures must be fed nutrients referred to as "media." Media is a mixture of ingredients that works as a food source for cell lines. The cultivator controls food supply inputs and temperature, the cells are continuously monitored, and once the meat is cultivated, meat tissues are handled and stored appropriately.
Core Elements
Isha Datar of New Harvest, a non-profit that supports and promotes cellular agriculture with an academic focus, characterized the safety considerations as turning on four (4) core elements of the production process. Namely, (1) cell cultures; (2) scaffolds; (3) media; and (4) bioreactor (cultivator). See Figure 1, below.4
Figure 1.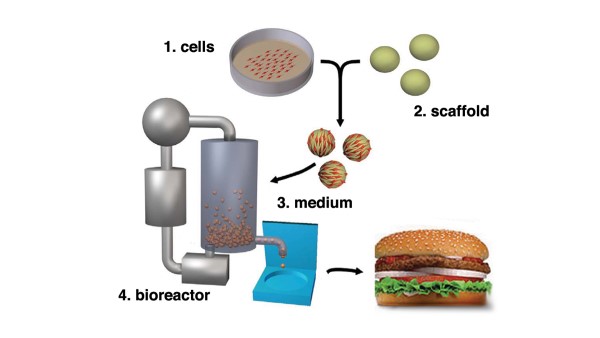 Ms. Datar also proffered that with specific regard to the assessment of culture media, key questions could entail: What are the components of the growth media? What is the sterility and variability between batches? What are the active ingredients? Does the media contain any toxins or antibiotics? How is it manufactured? How is it stored? What is its shelf life? Does any of the medium remain in the end food product?
In terms of variations in manufacturing methods that would be relevant to safety considerations for foods produced by animal cell culture technology, cell-based meat stakeholders pointed to such factors as: how stable the feedstock components are; whether feedstock components contain toxins, fibers, or antibiotics; and how feedstock components, as well as the finished food products, are stored. Cell-based meat stakeholders agreed that FDA regulation needs to be transparent and evidence-based to ensure consumer safety and confidence.
Regulatory Oversight
The FDA's June 18, 2018 press release announcing the July 12 meeting stated that "[u]nder the Federal Food, Drug, and Cosmetic Act, the FDA has jurisdiction over 'food,' which includes 'articles used for food' and 'articles used for components of any such article.' Thus, as a starting point, both substances used in the manufacture of these products of animal cell culture technology and the products themselves that will be used for food are subject to the FDA's jurisdiction." Coming into the July 12 meeting, it therefore appeared clear that FDA viewed itself as having sole jurisdiction over all cell-based foods.
During the meeting, FDA made clear that it is open to flexibly applying its existing authority to address the novel issues posed by cellular agriculture and would be pleased to continue stakeholder engagement in this regard. This pronouncement was met with diverse reaction.
Proponents of cellular agriculture applauded FDA's stance and emphasized that the cell-based meat sector is happy to work with FDA to develop an appropriately tailored regulatory approach that ensures consumer safety and confidence. For example, during the public comment portion of the day, the Good Food Institute's Director of Policy, Jessica Almy, touted FDA's ability to take the lead on regulation, stating that "the United States has a robust food regulatory regime that is more than capable of ensuring that clean meat is safe and truthfully labeled." Ms. Almy highlighted FDA's significant experience with fitting novel technologies into its existing regulatory framework and noted that the best regulatory path to market will ensure consumer safety and confidence without being onerous for producers.
On the other hand, conventional agriculture interests noted that FDA missed the mark by not including USDA in the discussion and called for USDA to assume a leading role in regulatory oversight. These interests contended that if meat and poultry produced by way of cellular agriculture qualify as meat and poultry under current USDA definitions, then the cell-based varieties—like conventionally produced meat and poultry—should be subject to USDA oversight. Many of these interests also urged caution and called for extensive premarket research before cell-based foods are rolled out.
Labeling
Finished product labeling was not a core focus of the meeting but did arise throughout the day. For example, during the stakeholders' perspectives panel, the start-ups referred to "cell-based meat," "clean meat," and "cultured meat," among other terms when referring to meat and poultry produced through cellular agriculture. In addition, during the public comment portion of the day, one representative from a livestock organization contended that any such products should not be associated with traditional terms such as "meat" and "beef."
The labeling of cell-based foods, especially meat and poultry, promises to be contentious as the labeling of conventionally produced varieties is regulated by USDA. Conventional meat industry interests contend that not subjecting cell-based meats to USDA labeling requirements would create an unlevel playing field.
It is worth noting that a dairy representative went on record at the meeting to criticize FDA for its ongoing tolerance for labeling terms such as soy and almond "milk." Coincidentally, five days after the meeting, Commissioner Gottlieb announced that FDA plans to crack down on the use of the term "milk" for nondairy products like soy and almond beverages.5 It remains to be seen what, if any, implications the agency's stance on the labeling of non-dairy products could have for the labeling of cell-based meat products.  In the cell-based meats context, some conventional agriculture interests have stated that cell-based meat should not be labeled as meat. Cell-based meat producers, however, explain that because meat produced by cellular agriculture is actually meat it should be marketed as such. How the labeling issue ultimately shakes out will likely turn on whether FDA or USDA takes the lead on oversight.
Next Steps and Legislative Activity
In addition to the July 12 meeting, FDA is accepting written comments on cell-based foods to help inform next regulatory steps (Docket No. FDA-2018-N-2155). Comments are due September 25, 2018.
These comments are coming due amidst significant activity on Capitol Hill surrounding which agency should take the lead on regulating meat and poultry produced via cellular agriculture. Congressional action could ultimately dictate whether FDA or USDA takes the lead and whether, and to what extent, the agencies collaborate on regulation. While FDA is requesting comments focused on safety, FDA has also provided an opportunity for stakeholders to provide comments on related issues. The question of jurisdiction is therefore ripe for comment.
Over the past several months, some legislators have sought to address jurisdiction via an Agriculture Appropriations bill. Because this is a complex issue with diverse viewpoints, FDA, USDA, policymakers, and industry must work together to come to a consensus on which regulatory agency should take the lead. Comments to FDA should therefore provide comprehensive feedback on safety considerations as requested by FDA, but also address the question of jurisdiction and provide recommendations for regulatory pathways within the existing regulatory framework tailored to cell-based foods that ensure consumer safety and confidence.
Conclusion
The July 12 meeting and the upcoming September 25 deadline for comments represent the first of many opportunities on the horizon that will set the foundation for how cell-based foods will ultimately be regulated.
In any novel biotech space, the largest threat is regulatory uncertainty. FDA's willingness to hear from novel product producers directly and consider their input as a precursor to developing regulatory pathways to market using existing authority is incredibly innovative and welcome.
About the author: Brian P. Sylvester is a former USDA regulatory lawyer and currently practices at Wiley Rein LLP as Special Counsel in the firm's Food, Drug and Medical Device Law Practice. He advises emerging and established companies in the food, beverage, and agricultural biotechnology sectors, with an emphasis on innovative foods. 
See Tyson Food's Press Release, "Tyson Foods Invests in Cultured Meat with Stake in Memphis Meats," dated January 29, 2018, https://www.tysonfoods.com/news/news-releases/2018/1/tyson-foods-invests-cultured-meat-stake-memphis-meats.
See also Wall Street Journal, "Startup Producing Cell-Grown Meat Raises New Funding", by J. Bunge (July 16, 2018), https://www.wsj.com/articles/startup-producing-cell-grown-meat-raises-new-funding-1531738800?mod=searchresults&page=1&pos=2.
For purposes of this article, cultured meat refers to meat produced ex vivo, or grown outside the animal, from cell cultures sourced from healthy livestock or poultry.
See "Gottlieb: FDA working closely with USDA on jurisdiction over 'cell-cultured foods' " Politico (July 17, 2017), available at: https://www.politico.com/story/2018/07/17/fda-lab-grown-meat-gottlieb-pro-summit-726302.
P.D. Edelman, D.C. McFarland, V.A. Mironov, and J.G. Matheny. Tissue Engineering. May 2005.
See "Gottlieb: FDA to crack down on labeling nondairy products as 'milk'" Politico (July 17, 2017), https://www.politico.com/story/2018/07/17/almond-lactate-nondairy-milk-scott-gottlieb-725974.