New Edition Available
A Practical Guide to FDA's Food and Drug Law and Regulation, Seventh Edition
Edited by Wayne L. Pines and Stephen M. Kanovsky, with 19 chapters by contributing authors
The Print and E-Book versions are available for purchase here.
A Practical Guide to FDA's Food and Drug Law and Regulation, 6th Edition
Softbound | 550 pages
Edited by Kenneth R. Piña and Wayne L. Pines, with 19 chapters by contributing authors.
A Practical Guide to FDA's Food and Drug Law and Regulation provides an introduction to the laws and regulations governing development, marketing, and sale of food, medical products, tobacco, and cosmetics. 
Structured to serve as a reference and as a teaching tool, each chapter builds sequentially from the last, while providing an accessible overview of the key topics relevant to practitioners of food and drug law and regulation.
Written in real-world language, the book offers practical legal/regulatory fundamentals for use by a wide range of people interested in the FDA legal and regulatory scheme. This book is a standard text in law schools and graduate regulatory programs and has been cited as a reference in judicial opinions (including a U.S. Supreme Court opinion).
This Sixth Edition incorporates the latest amendments to the Federal Food, Drug, and Cosmetic Act, as well as FDA regulations and guidances. It also incorporates important changes that have resulted from recent court opinions and administrative enforcement actions.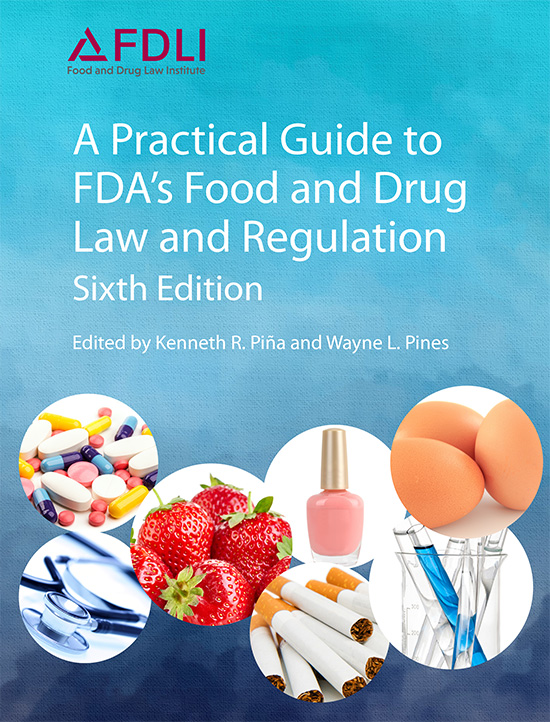 Get this Book
-$40 for student members
+$50 for nonmembers
Internet Explorer and Microsoft Edge are not supported by the checkout process.
Please use Chrome, Firefox, or Safari.  If you are unable to use these browsers, please contact us at 202-371-1420 or [email protected] and we will assist you.
Save 10% on a purchase of 5 or more copies, and save 15% on a purchase of 10 or more copies.
Review copies for professors who are adopting a book for a course are available for a reduced fee. Please contact [email protected] for more information.